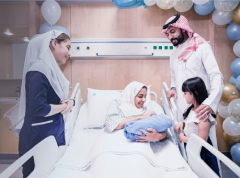 Overview

Delivery Rooms & Nursery

Childbirth is a happy occasion for both the woman and the family, we have sought to make it so by providing an entire female staff in the departments of gynecology, obstetrics and gynecology with doctors and nurses with expertise in their specialization, and designed and equipped delivery rooms, its operating rooms, nursery rooms and intensive care for newborns to provide all the needs of women and children with comfortable privacy For every patient in all stages of her hospitalization.
Features
Privacy.
Female staff.
Private rooms and suites.