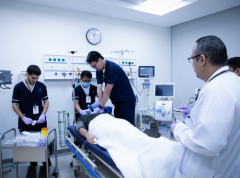 Overview

Emergency

The emergency department is equipped with trained doctors and is designed to achieve the patient's comfort, taking into account his needs and preserving his privacy. It is equipped with an urgent operating room for minor operations, a special section for obstetrics and gynecology emergency with a fully equipped delivery room for emergency cases in addition to a special section for pediatric emergencies. Easy connection to the hospital departments has been arranged to facilitate communication and speed of response If necessary.
Features
Consultants and specialists 24/7
Obstetrics and gynecology emergency department.
Pediatric emergency department.